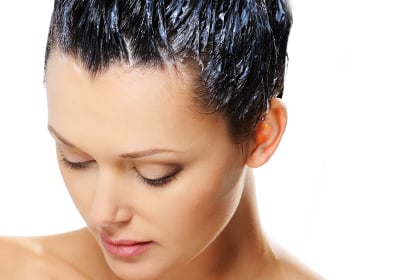 Many of us use conditioner and take it for granted... it can commonly be viewed as the step after Shampooing where you slather it all over your hair and then wash it out. Keep reading to find out various ways to use conditioner in your daily routine. All of these tips and tricks are suitable for men or women!
Washing Your Hair
Do you notice that your hair gets greasy frequently? This could be because Conditioner is not meant to be applied all over your hair, it is a smoothing treatment which is meant to be applied to your hair from your ears down. If you try to skip applying the Conditioner above where your ears are, you will see that your hair will be less limp, have more volume and stay non-greasy for a longer period of time.
Shaving With Conditioner, Skip The Shave Gel
Do you run out of shave gel often and forget to re-purchase? Are you sick of spending extra money on yet another beauty product you wish you could double-down on? A great tip is using Conditioner as shave gel. Conditioner will foam less but create a nice slippery barrier between your razor blade and skin, letting you get in for a closer shave. The added benefit is that the hydrating properties of your Conditioner will leave your skin feeling softer, smoother and more moisturized than ever. This can be used on your face, legs, arm-pits or anywhere else you may want to shave! I live by this trick and I love the results!
Reversing Shampoo and Conditioner
If you find that you have dry, brittle hair with no shine and that may be difficult to comb out, you can try this neat trick I picked up. If you reverse the order in which you apply shampoo and conditioner, you will be left with soft, supple and more moisturized hair. The proper way to go about changing your routine is to apply your conditioner when you would have shampooed and rub it specifically on the ends of your hair. Then leave the conditioner in your hair for a few minutes before gently rinsing some of it out. I would advise you to leave some of it still in your hair as you apply shampoo so that the shampoo doesn't completely strip your hair of moisture. I typically shampoo my hair very quickly because I don't want the reaction to take away all of the conditioning goodness. Then, you can rinse your hair out and you will find that your hair is more detangled, softer and generally healthier looking.
This method works for my hair but I have slightly wavy, fine hair. However, this may not work for overly curly or kinky hair as the shampooing final step may leave you with more frizz than before. If this is your situation, you might want to pre-shampoo with coconut or argan oil, or even apply a hair mask before your regular washing.
Non-conventional Uses for Conditioner
I have put together a list of unconventional and unique different ways to use conditioner:
Massage your cuticles with conditioner in place of cuticle oil (lip balm works for this as well)
Use gentle conditioner as a makeup remover in a pinch (I don't recommend this one if you have sensitive eyes)
Deep-clean and condition your makeup brushes with conditioner to leave them soft
You can use a small amount as fabric softener when you're doing laundry, also can be used to wash silk "Dry Clean Only" clothes
Conditioner can be used to shine stainless steel, prevent tools from rusting, and even unclogging drains
Remove rings that are stuck on your finger by applying conditioner on the skin
I hope you found this article helpful and that it may have given you some new ideas about how to use a product we all have laying around the bathroom!