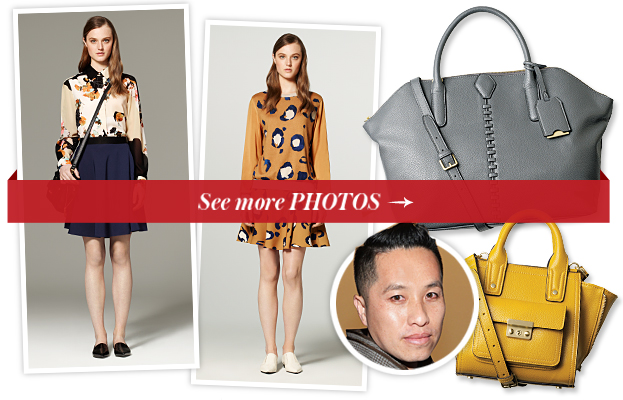 Hi all,
I don't know if I've been living under a rock but Target has some really cool stuff... I guess I never really paid attention to how fashionable some of their items are because I assumed they were just like their counterpart (Wal-Mart) and didn't obtain anything young or hip.
I was pleasantly introduced to the Phillp Lim 3.1 limited-edition collection by my sister-in-law, and serendipitously my husband informed us at 3:30AM on the collection release date (Sept 15th/2013) that the items were up online. I guess we got lucky that he was up watching some UFC match that ran late otherwise we probably wouldn't have gotten our hands on these bags. So of course we went into crazy panic mode and bought 2 of the large bags, 5 of the smaller bags, 2 overnighter Cheetah print bags, and I got a weird-looking sweater-dress. We also went into the store and battled the masses, but we only walked away with one small black bag.
When they arrived, I absolutely loved these bags (with yellow being my favorite) and they even have side zippers so you can configure them as shown in the taupe (appears grayish) purse, the pricepoint was $34.99/each:
I was even more thrilled a few days later that my overnight bag (only sold online) arrived just as my husband and I booked our plane tickets for a flight to Portland, OR scheduled for the very next day for a freelance booking. The bag pulls up about to double its size (shown in second photo). Now the only real problem with this bag is that it is really intended only for traveling, you can't walk around with it too much, if you pack it too full you will barely be able to get it over your arm, and it'll feel very uncomfortable. That being said, it's a terrifically made bag for its pricepoint ($49.99) and it is quite large, I was able to fit 3 large sweaters, 2 jackets, a scarf, my enormous makeup case and misc. other items.
My sister-in-law, also named Alex, purchased the large bag for herself as well. It's super cute and roomy, I personally love the
taupe version of this bag
, but she prefers the
black
so it'll match everything she wears. This bag did seem very large, you could pretty easily fit a laptop in there and I think it's probably an amazing bag for work. They also offered an online-only color of this bag in a
deep purple
.
I have yet to see the sweater-dress, so I will update you guys later on that one, as it arrived after we had already left NYC for Portland. For those of you that are not from the US, you can purchase these items all over eBay, it's pretty flooded with the collection. But buyer beware, I really thought that the majority of the clothes were very poorly made and definitely did not warrant the high price-point (at least in comparison to other Target clothes).
Let me know if you purchased anything from the Phillip Lim for Target 3.1 collection and what you think about it in the comments section below!